Most flexible and financial IT support service of Denmark
With Redeem Tech, you will get the most flexible and financially-wise on-site and or off-site IT support in English, Danish, and several other languages. We are providing 0, 1st, 2nd, and 3rd level IT support for any type of problem you have with IT - whether it is for windows or mac, for setting up apps, installing software, server management, user support, and regardless of what type of device you are using we can help with it all.
By outsourcing your company's IT support with Redeem Tech, you are achieving a long list of benefits, some of which includes the following but is not limited to: Most flexible IT support on the market as you only pay per hour worked and can select your IT supporters. Redeem Tech is in fact only company on the Danish market providing a non-binding IT support service.
The best financial choice on the Danish market
Price transparency - additional expenses will not be applied unless you agree to them.
Response time for issues within a day guaranteed - often within seconds.
Support in English and Danish guaranteed - other languages are sometimes possible.
Around-the-clock support : Refer to our coverage map to see the places of 24/7 coverage.
Coworking and coordination with other IT suppliers: We are speaking in an understandable way meaning even as a tech-illiterate person you will understand our solutions and our 0 level IT support ensures you do not keep making common mistakes.
Teamviewer support: Best of all, by outsourcing your IT support the only thing you will have to worry about is paying each time an issue needs to be solved and to somewhat describe the issue. You will avoid internal processes, procedures, documentation, training of managers, the branding and public relations of your workers, HR issues, and much else.
IT support service map coverage
Here you can find the map of wherein Denmark we currently have available IT supporters ready to help you solve your IT issues
For our portfolio of current and previous IT support projects and for other news related to it and the company, please, view our LinkedIn company profile.
Contact for a non-binding offer or to hear more about our IT support service.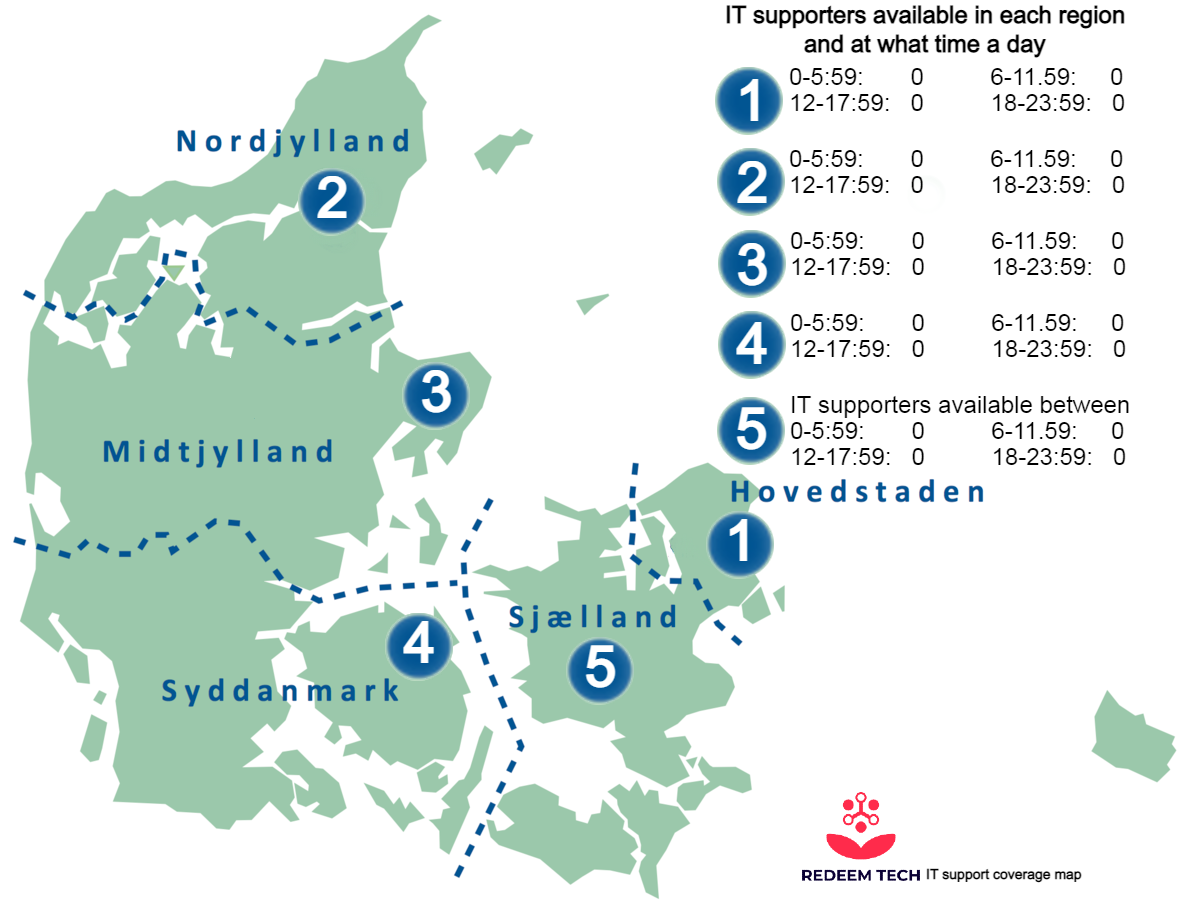 Not sure what is the best solution for your business? Contact us for a consultation or reuest a qoute with no commitment!
Request a FREE Quote